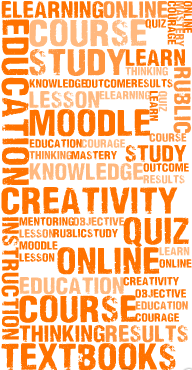 What is Moodle LMS? If you are familiar with Content Management Systems (CMS) like WordPress, Drupal and Joomla, Moodle is similar except that it is specifically designed to support education through online and in-class e-learning activities.
One of the most popular LMS' in the world, Moodle is a Free Open Source Software (FOSS) web-based application designed for those who would rather spend their time, money and efforts on developing effective e-learning courses instead of perpetual expensive yearly software licences costing tens or even hundreds of thousands of dollars like Blackboard, Desire2Learn, Saba and PeopleSoft ELS.
Need to deliver course in one or multiple languages (example: English/

Français

)?
Have accessibility requirements like WCAG 2.0?
Need a site that fits in with your organization's common look and feel brand?
Need an affordable way to train your staff, your students, your clients, your partners or sell courses to the general public?
Moodle might be the solution you have been looking for. Contact us today to learn whether Moodle is the right solution to help you improve staff efficiency, lower your cost of doing business, increase the return on your investment.
Moodle is the most popular free Open Source LMS applications available in the world today and for good reason. There are 1,000+ 3rd party plugins available in addition to hundreds which come included with Moodle. Themes? There are over 125 open source themes and many additional commercial themes.
Don't see what you are looking for?
We can help you with your specific requirements.
Have questions?
Want to learn more about using or developing in Moodle?
Types of course activities supported by Moodle
There are many types of Moodle course module activities. Out of the box, Moodle includes the following types of interactive activities to keep your learners interested and engaged:
Announcement
Assignments
Chat
Choice
Database
Feedback
Forum
Glossary
Lesson
LTI
Quiz
SCORM
Survey
Wiki
Workshop
 
There are also about 300 additional downloadable course activities and resources available for free including integration with other applications.
Moodle integration
Moodle supports several popular course formats and integration with other systems including:
Course types supported: Moodle courses, SCORM courses, LTI courses, xAPI formerly known as Tin Can API
Authentication systems: CAS Server, Eternal Database, FirstClass Server, IMAP server, LDAP Server, NNTP Server, POP3 Server, RADIUS server, Shibboleth, Facebook, Google, Github, LinkedIn, Dropbox, Windows, VKontakte, Battle.net, Yahoo, Twitter, Yandex, OpenID, UNI•Login, Windows Live ID, Azure Active Directory, Office 365, MediaWiki, WSTrust
Web Conferencing and Collaboration: WebEx, Adobe Connect, BigBlueButton, OpenMeetings, Google Hangouts
CMS and Applications: Drupal, WordPress, Joomla, Office 365, Google Apps and others
Repositories: Wikimedia, Alfresco, Box, Dropbox, Evernote, Equella, Flickr, Google Drive, Merlot.org, Picasa Web Album, Amazon S3, OneDrive, WebDav, YouTube videos
What do people think of Moodle and TNG Consulting?
Moodle was rated as Excellent and received the PC Magazine 2015 Editors Choice award. "Moodle offers an entirely viable learning management service that is free, open source, and rapidly advancing.".
TNG Consulting has been developing with Moodle since 2013 and our developers have been awarded the "Particularly helpful Moodler" badge by the Moodle community in 2014, 2015 and 2016 - three years in a row!



Who uses Moodle?
Here are just a few of the organizations in the region who have used Moodle:
Public Health Agency of Canada (PHAC)
Shared Services Canada (SSC)
Royal Military College of Canada (RMCC)
Canada Border Services Agency (CBSA)
Canada School of Public Service (CSPS)
Department of Fisheries and Oceans (DFO)
Canadian Council of Aviation and Aerospace
Carleton University
University of Ottawa
City of Ottawa
Algonquin College
Ashbury College
You may have also heard of these world-renown organizations who have used Moodle: Bombardier Aerospace, NEC, Four Seasons Hotels and Resorts, Oxfam, World Vision, The Coaching Institute, Queens University, York University, Bishop's University, Concordia University, McGill University, Université du Québec a Montréal, Université de Montréal, Polytechnique Montréal.
Did You Know?
Moodle is used  in over 220 countries around the world.
Over 70,000 courses have been published
Over 80 million learners are being educated using Moodle LMS.
Moodle is used by a variety of institutions and individuals, including:

Primary schools, High schools, Universities
Government
Healthcare organisations
Military organisations
Airlines
Oil companies
Homeschoolers
Independent educators
Special educators